BOLTS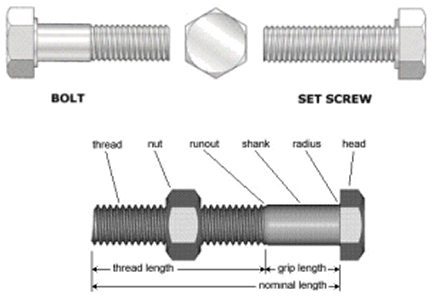 The difference between a bolt and a set-screw is only that there is thread
the entire length of a set-screw.
In the USA most people consider a SET SCREW to be what the British call a GRUB SCREW.
Here, we use British terminology.
Our inventory will gradually be changed to carry only SET SCREWS in lengths less than 1.25 inches. Any item over this length will be carried only as a bolt.
If you wish to purchase a Set Screw at say 2", you'll need to buy that in a bolt size and cut the thread using a die.
Please check both BOLTS & SET SCREWS during this transition stage, as we currently have both in a variety of lengths.
---
These are the available screw head types that we sell:
| | | |
| --- | --- | --- |
| | | |
| Cheesehead | Slotted Countersunk | Dome Head |
| | | |
| Hex Head | Slotted Panhead | Raised Countersunk |
| | | |
| Round Head | Socket Head Cap Screw | Philister |
Subcategories: