NUTS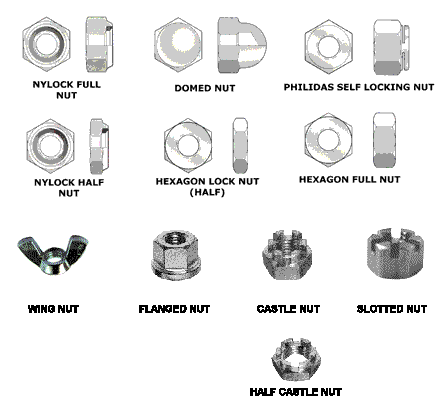 There are several 'styles' of nuts, developed over the years by different engineers for their own specific applications.
Many restoration projects need these styles to make the machine look original. The main catagories are:
THIN NUT= 1/2 NUT = JAM NUT. Named differently, but basically the same. Usually, two of these nuts are used together as a 'locking nut'. Very effective, and used before the advent of Nylocks etc. In this example, the half nut is also oversized 'across the flats', so could also be considered a 'wide nut'.

WIDE NUT. These are made for special applications, and are usually made from hex bar the next largest size.

DEEP NUT. These are made oversized in their height. They can be any length above standard, some being more than one inch tall, depending on the problem. When requesting this sort of nut, you need to provide accurate dimensions 'across flats', height, etc.

NARROW NUT. These nuts have been made using a smaller sized hex bar, so the 'across flats' dimension is smaller than the standard. Obviously degigned to be used in tight spots. In this example, the 'deep nut' is also a 'narrow nut'.

FULL NUT = STANDARD NUT. These nuts are, on the face of it, your ordinary, every day nut, however, there were two methods of manufacture. The older style (BEARING SURFACE NUT - shown here) was brought about because the nuts were made on a lathe from hex bar. The top side had the corners slightly rounded, and the bottom side did not. You can also see the swirl marks of the cutting tool in the top and bottom of the nut. The more modern manufacturing process involves the nut being stamped out, so both top and bottom corners are slightly rounded, and there are no lathe tool marks.
BSF/BSC BRASS (MANIFOLD) NUT 1/4

Subcategories: